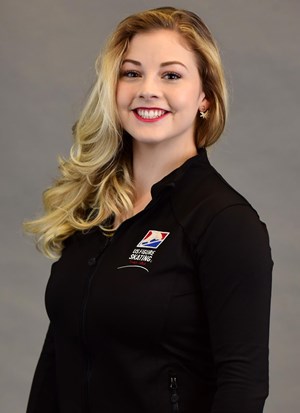 Date of Birth  August 17, 1995
Place of Birth  Newton, Massachusetts
Residence Claymont, Delaware
Height  5'5"
Club  Ice Works Skating Club
Training Location  Aston, Pennsylvania
Coach  Pasha Filchenkov, Alex Zahradnicek
Choreographer  Jeremy Abbott
In 2016, Gracie Gold became America's golden girl once again, claiming her second U.S. Championship in commanding fashion. A fierce competitor and one of the top jumpers in the world, Gracie came to St. Paul, Minnesota, determined to reclaim the championship title. Using dramatic music to Stravinsky's "Firebird," Gracie took control of the ice and the audience to win one of the most coveted prizes in skating — the U.S. gold medal. Wearing a red dress with flames on the sleeves, Gracie skated with fire in her eyes. From start to finish, she had indeed become "Firebird." Her confident rendition of the program and glowing smile afterward resonated with fans around the world.
"I am just over the moon," Gracie said afterward. "To win another U.S. title means so much to me. It feels good that all of my hard work paid off."
For Gracie, the climb back to the top has been a tough road, with many ups and some setbacks. She has proven that when she skates her best, she is nearly unbeatable.
Gracie made her mark on the senior skating scene back in 2013 when she made her senior debut at the U.S. Championships. There, she rallied from a ninth-place finish in the short program to win the silver medal. The victory earned her a spot on the 2013 World Team and put her into the mix as one of the top U.S. contenders for the 2014 Olympic Winter Games.
She went on to win a pressure-packed 2014 U.S. Championships in Boston, right near her birthplace of Newton, Massachusetts. Gracie set three personal-best scores (short, free skate and overall) at the 2014 U.S. Championships, and secured her place on the 2014 Olympic Team by winning her first national title.
At the 2014 Olympic Winter Games in Sochi, Russia, Gracie along with other members of Team USA won the Olympic Bronze medal in the first-ever Team event. In the individual ladies competition, Gracie placed fourth, an impressive Olympic debut.
"She's a gorgeous girl," said Frank Carroll, who has coached Gracie since the fall of 2013. "She looks like Grace Kelly. She has star quality." Gracie says that in addition to admiring Grace Kelly for her "timeless beauty," she also is inspired by actress Jennifer Lawrence and is a huge fan of singer Taylor Swift for her talent, beauty and style.
When she is not skating, Gracie enjoys spending time with her twin sister, Carly (also a competitive skater) and their three dogs; Yoshi, Dory and Luna. An avid reader, Gracie is a fan the Harry Potter book series. She also loves to cook and can often be found at local farmers' markets searching for just the right ingredients for her next recipe.
Gracie was nominated for the Nickelodeon Kids' Choice Sports Award for "Best Female Athlete," and the Los Angeles Sports Council selected Gracie as its L.A. Sportswoman of the Year in January 2015.
Gracie has attracted corporate interest and is supported by Nike, EDEA and John Wilson Blades.  Additional sponsors have included; Visa, United, P&G, Smucker's, Pandora (Jewelry) and Airweave. During the 2014 Olympics, she was featured in television commercials for United Airlines & Visa. In the winter of 2014, Gracie was also featured in Nike's "Choose Your Winter" television campaign.
After sitting out the 2017-18 figure skating season to seek treatment for anxiety, depression and an eating disorder, Gracie announced her intention to return to competitive skating, and will compete at the 2018 ISU Grand Prix event, Rostelecom Cup. She now lives in Claymont, Delaware and trains in Aston, Pennsylvania with coaches Irina Yakoleva, Pasha Filchenkov, Vincent Restencourt.